Grovelea Rumba ShCM
Call name - Harry (aka H)
Born - 30/07/2002
H in the line up at Crufts 2009 where he won the Reserve Challenge Certificate (photo by Olga Silvestova, Gloris Kennel)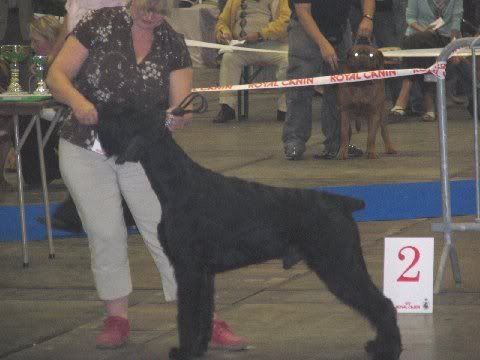 H in the ring in Belgium
Top wins include
Show Certificate of Merit title
Best in Show at several open shows
Reserve Challenge Certificates at Manchester 2004, SKC 2004, Darlington 2004, Manchester 2005, LKA 2008
CACIB - Leige, Belgium 2004
CACIB and Best of Breed - Brabo, Belgium 2005 & Oostende, Belgium 2005
since then H has won another 3 CACIBs giving him 6 in total from Belgium.
In August 2008 H went to Holland for the first time and returned as winner of the CACIB.
"A Riesenschnauzer of true schnauzer type with the most excellant movement" Mst Muntean Petru - judge
H is available for stud to approved bitches who have a current and clear eye test certificate.
Typical puppy sired by H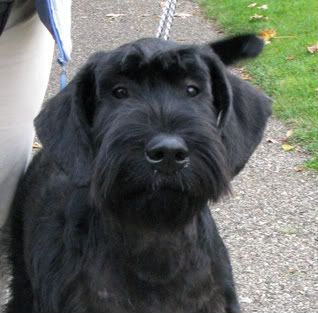 You can see more of H's kids in the photo gallery.